Diversity is, without a doubt, one of the best characteristics of this world. It allows an unlimited possibility of experiences, learning and creations from the connections that we can forge with each other and with what surrounds us. However, sometimes we believe that this relationship does not exist; that there are situations or ideas that cannot be spun. But when we manage to find that nexus, there is a sensation that mixes surprise, emotion and enjoyment with knowledge. If we ask ourselves what do an anthropologist who makes glass art, a communications researcher, a development graduate interested in mental health, another developer turned rural teacher and a theater director have in common? We could say that what unites us is precisely the desire to deepen that feeling and also to share it.
Thus Comunica Investiga Lab was born, a community of co-creation of knowledge through research in communications that, like many other things in this life, is the result of the connection of many purposes, desires and opportunities.
The idea comes from a concern in the minds of Orietta and Gabriela. The interest in communications research has been present in both of them for years, so they are part of the research group Communication, Art and Culture, where they are dedicated to examining the relationship between actors, discourses and cultural and artistic practices with the communicational. However, both knew that this is a space that starts from the interests of teachers, and felt the need to open the doors to students to learn from them and their ways of working.
They were guided by two key concepts: research clinics, a space where anyone who is conducting research can consult, and human libraries, libraries where instead of books you can enjoy an hour of conversation with another person. The idea of a space where people feel free to consult other people, where the answers they can receive are guided by both their academic knowledge and the diversity of their life experiences, was tempting.
In the case of Samuel and Carlos, they have grown and learned together throughout their university years, and along the way, the desire to research and create knowledge, seeking to contribute to today's society, brought them closer together. In the last year of their studies, they approached Orietta with the idea of a research project, where the students themselves would do the research and write the article, while the teachers would accompany and guide them with constant feedback. They drew up a plan that did not come to fruition, between the pandemic and the demands of the last year of undergraduate studies, but it helped plant the seed of what would become Comunica Investiga Lab.
When opportunity knocks at your door, open it, so as soon as the call for the CAP Innova contest to support innovation projects in education was opened, Gabriela and Orietta decided to apply. The dream became a reality until it was put into words: to create a space for experience and co-creation of knowledge from social communication, facing the challenges of today's reality. The goal was to build an interdisciplinary view and work that articulates academia with professional practice in a research community to enhance the learning of students and teachers.
The idea of a space where people feel free to consult other people, where the answers they can receive are guided by both their academic knowledge and the diversity of their life experiences, was tempting.
Why specifically a research laboratory in Communications? Because in this post-truth era, it is vital to develop critical thinking and the ability to investigate and discern information. This is true for professionals in any career, but even more so for an interdisciplinary field like communications that deals with the formation and dissemination of ideas. It is necessary to explore a new form of knowledge production, one that starts from the concerns and needs of new professionals.
Orietta and Gabriela knew that they could not do it alone, but above all that they should not build it alone, it was time to take on the challenge of learning as teachers. They immediately looked for Samuel and Carlos, those students so enthusiastic about researching and producing that they arrived on their own, and finally Chiara came in to complete the team. We managed to include all the dimensions of the relationship with the university: Gabriela and Orietta as teachers, Samuel and Carlos as students about to graduate, and Chiara as a graduate who has been working for years. The articulation of these three points of view is fundamental for the way the lab works, both within the organizing team and with the students. We have been nurtured by different generations in a sum of life experiences, which leads us to question being within the university as a way of pointing to society and knowledge.
While we anxiously awaited the results of the call for proposals, we continued planning how to move forward with Comunica Investiga Lab. To test students' interest in the proposal, we opened an Instagram page and were surprised by the great reception it received. We held a small initial workshop, after which interest continued to grow, and as soon as we received the go-ahead to receive funding from the DFI we opened the call for the First Induction Program. Since then Comunica Investiga Lab has not stopped; in its two months of operation it has been changing, growing and evolving with each day. It is an achievement that in the short time we had in the Induction Program we have been able to produce so many research plans, which are not perfect but neither should they be, they are a first step to get us on the road to work. We owe this achievement entirely to the commitment and effort that each of the participants has dedicated to the laboratory, to the commitment it means to arrive at the sessions with their work advanced and their heads full of ideas. Their enthusiasm in presenting their own projects and commenting on those of their peers makes us feel that we are doing something right.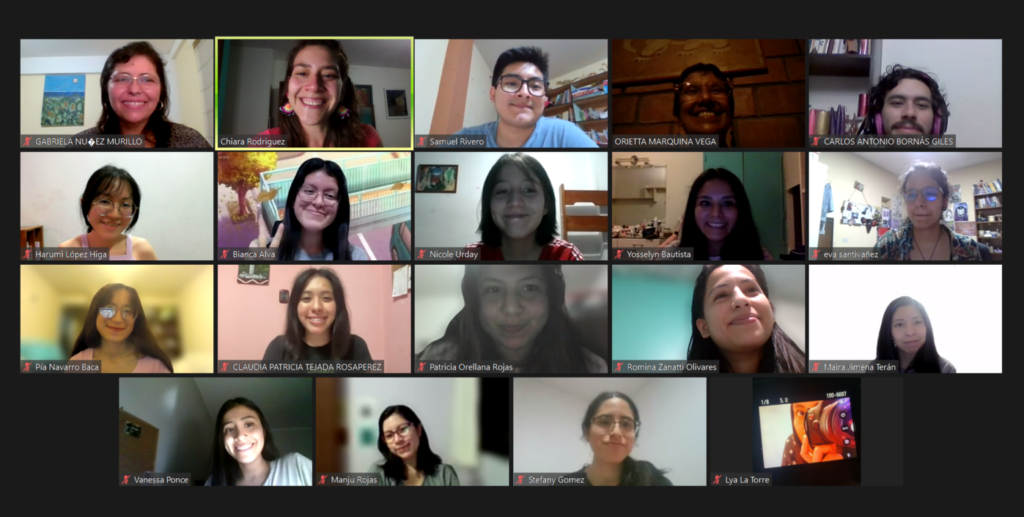 Today, the lab is not what Orietta and Gabriela had conceived at the beginning; it is something bigger, the result of the collaboration of the five of us as the organizing team, and the participants who took on the challenge. The way in which we are building this space is precisely what we want to achieve with it: a space for co-construction of knowledge, which requires adjustments, like any process, but it is growing together. We must constantly adapt what we had thought to be able to respond to what the participants need, and we are grateful that they themselves feel the confidence to ask, give their opinion, disagree, never in a competitive way, but always genuinely curious, eager to learn. Feeling the commitment of the other people in the team helps one to commit oneself.
At the beginning of the lab we did a ritual to state what we want to achieve at the end, and among the promises to write articles, do video essays and podcasts on the topics they are so passionate about, many mentioned taking care of their mental health as one of their priorities during the work process. We were pleasantly surprised by how natural it was for them to link the personal with the professional. This is noteworthy since, by mere chance, the first group of participants are all women, and there is still a prejudice that in order to succeed in traditionally masculine spaces, such as academia, it is necessary to adopt masculine work dynamics, to be assertive, efficient, without showing weakness. However, within this work group a space of trust, support and mutual support was formed very naturally, with an openness to vulnerability and a capacity for tolerance towards the difference in processes, knowledge and experiences, for which we are immensely grateful.
It is important to understand that before being researchers or academics, we are humans, and we must approach research and teaching from this perspective. We return to the concept of the humanotheque: this is a space for sharing knowledge that often goes beyond the knowledge one finds in books. We take our humanity as a primary source for creation. One of the participants commented that her research topic stirred up many feelings because it reminded her of a painful episode in her family history, but despite how difficult it could be at times she was still determined to continue with the research, because, in her own words, "the day it doesn't hurt I should worry, because that means I no longer care. We are honored to provide this safe space that allows all of us involved to grow, not only as professionals but also as people.
Although this is a research experimentation project, it is fundamentally a learning space, an educational innovation project. We firmly believe in an education that stops leading and learns to accompany, and we are committed to work for it. That is what we have in common, these people who from the outside seem so different. We continue with the challenge of continuing to create and grow in the heat of the needs that arise and the principles assumed. We could tell you all the wonderful expansion plans we have, but we do not want to get ahead of ourselves, we want to enjoy the journey and not just the results, we have learned to have a dynamic of working together that motivates us mutually to continue and is the key for the project to keep growing. We continue to build Comunica Investiga Lab together, without fear of making mistakes in order to learn every day.